View Thread: Šventinis konkursas
Counter Strike 1.6 - FLESHAS.lt
Kada Standis pradės leist be sustojimo dainą "Žiema"?
1-9 dienos
18%
4 Votes
10-29 dienos
59%
13 Votes
30-90 dienų
14%
3 Votes
Pavasarį
9%
2 Votes
Rep

utacija

:+103
attach_money
0
Posts: 93
Kalėdų šventė pakylėja mus nuo darbais ir rūpesčiais persmelktos kasdienybės prie amžinųjų vertybių, kaip swarmo aukinimas ir lygių užkėlimas. Kūčių vakarą išgyvename mums brangių žmonių artumą, dalydamiesi su jais dvasios šiluma, tačiau tuo metu nors ir atostogos, nėra laiko daužyti zombiams galvas. Tegul Jūsų namuose nepritrūksta jaukumo ir žmogiškosios šilumos, džiaugsmo ir ramybės, tv3 and Arabas got your back bro
. Viltingai žvelkite į šią žiemą bei gan greitai ateinančius naujus metus, tebūnie jie dar sėkmingesni! Linksmų kažkada ateinančių Šv. Kalėdų ir laimingų Naujųjų metų
! O už visus XP, kurių negalėsite pasikelti, nes turėsite būti su šeima, tv3 ir Arabas (ir galbūt kiti, kurie turi daxuje swarmo xp nori prisidėti prie šventinės nuotaikos) dovanoja jums konkursą.
Nagi nagi, statymai:
Už kiek laiko išeis nauja (galimai GJan) daina su pavadinimu "Žiema" ir standartas ją be sustojimo leidinės?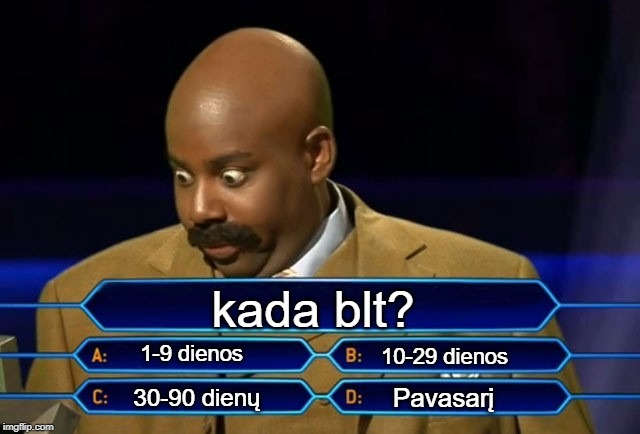 Auksas : 5,000,000 XP ir 10 Prs
Sidabras : 3,000,000 XP ir 10 Prs
Bronza : 2,000,000 XP ir 5 Prs
Nugalėtojai bus renkami tarp apklausoje atspėjusiųjų pagal random.org arba dar kažkaip įdomiai
2019/12/01: Standartas mėgino sugadinti šventinę nuotaiką ir ištrinti konkursą.
---
Edited by tv3 on 12/02/2019 12:20

---